Hygiene
8 Best Electric Toothbrushes of 2023: Comparison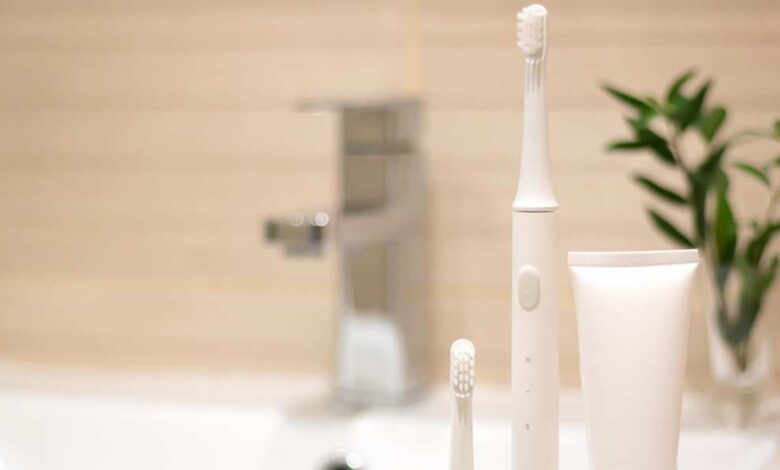 Electric toothbrushes have been around for a long time now. Although a few years ago, people wondered if they were more efficient than manual toothbrushes, technology has advanced so much that it is clear to everyone that Electric toothbrushing equals or even surpasses manual toothbrushing in terms of effectiveness.
But this efficiency depends a lot on the model of an electric oral toothbrush, its technology, its power, and even its design and materials.
Therefore, it is essential to specify that electric toothbrushing is as effective, if not more, than manual brushing, only if you use a quality electric toothbrush.
This article will present the best electric toothbrushes of the moment, according to your budget. See also: water flosser reviews and guide.
The three best-selling electric toothbrushes of the week on Amazon
best electric toothbrushes: Comparison
1- Oral B iO Series 9 Electric Toothbrush with 3 Replacement Brush Heads, Black Onyx
Oral-B iO 9n: The best electric toothbrush
If you have the budget, this model is the best, most powerful, advanced, and most efficient electric toothbrush I've reviewed.
The Oral B IO has the most powerful motor of the brand, a high-capacity battery, seven operating modes, a color screen, and 3D movement of the head (oscillation, rotation, and vibration).
This electric toothbrush is loaded with sensors, like the intelligent pressure sensor, which alerts you with a light and reduces speed to prevent damage to tooth enamel and gums, or position and motion sensors, which detect the movement of the brush in 3D to inform you of the effectiveness of the brushing and any uncleaned areas.
The base is stable, with non-slip rubber on the bottom, and the travel case allows you to charge the toothbrush and even incorporates its battery, so the toothbrush can be charged while traveling. I have it Used as a power bank to charge my cellphone.
On the color display, you can see the selected mode and the brushing result when finished, although it only provides a little more information, and that's something Oral B should improve in future releases.
Want to check the comparison between best travel water flossers.
Pros
The most powerful and efficient
Seven brushing modes
Position detection with artificial intelligence
Sensors for cleaning monitoring in 3d
Smart pressure sensor
Ideal for travel thanks to the long battery life and the charger case.
Cons
The information on the screen could be improved
Only one head included
The price
2- Oral B Genius X Limited, Electric Toothbrush with Artificial Intelligence
Oral-B GENIUS X 20000: A robust and reliable electric toothbrush
If you're looking for a high-end toothbrush but don't want to break the bank, the GENIUS X 20000N is one of the best you can find.
This electric toothbrush incorporates one of Oral-B's most powerful motors, with advancements such as 3D movement of the brush head, pressure sensor with speed reduction, and intelligent artificial intelligence to improve brushing, making it one of the most effective and safest on the market.
The battery lasts about two weeks (in my case, even longer), and it has six operating modes and position sensors that send brushing data to your smartphone via Bluetooth. This model also analyzes your brushing and helps you improve it, thanks to artificial intelligence. However, it is not practical since a smartphone camera must supplement it.
The Genius 20000X belongs to the top of the range, noticeable, for example, in the high-quality casing, which even acts as a charger, or in the variety of colors available to adapt to your taste. It's an excellent choice for a gift.
Pros
Powerful and efficient
Six brushing modes
Position detection with artificial intelligence
Pressure sensor with speed reduction
Ideal for travel thanks to the long battery life and the charger case.
Cons
Artificial intelligence still has a lot of room for improvement.
3- Oral B Pro 3000 Smartseries Electric Toothbrush with Bluetooth Connectivity, Black Edition
Oral-B Pro 3000: the best value-for-money electric toothbrush
When we want to find a toothbrush with the best value for money, we must identify the essential aspects to stay aware of the details, and a model that more than fulfills these vital aspects is the Oral-B Pro 3000.
This is a sturdy and well-built electric toothbrush. Its powerful motor, combined with the 3D cleaning system (based on oscillation, rotation, and vibration), makes it a very efficient model. It also has a pressure sensor, which warns you with a red light if you press too hard, thus avoiding possible damage to enamel or gums.
If you choose the 2500 version, it includes a carrying case, but if you don't need it, you can buy the Oral-B Pro 3000.
But only some things are perfect in this model. Some aspects could be improved, such as a more stable charging base and fast setting, because despite good autonomy (14 days), the charge is long enough.
If you are interested in the Oral B brands then we also compare some Oral B water flossers just in case you are looking for them.
Pros
Powerful and robust
Great autonomy
Good value for money
3D cleaning and pressure sensor
Includes carrying case
Cons
Loading speed could be improved.
4- Phillips Sonicare Sonicare Protective Clean Removes up to 7x More Plaque.
Philips Sonicare ProtectiveClean: Sonic technology and pressure sensor
The Sonicare ProtectiveClean is a powerful and efficient sonic toothbrush that is gentle on your teeth thanks to its pressure sensor.
I liked that it has a microchip that alerts you when you need to change the brush head because a worn or damaged brush head can ruin the toothbrush's effectiveness.
Finally, it only has two operating modes, which is behind compared to other models in this price range. However, practicality is the priority for this model, and these two modes are more than enough for effective cleaning.
Pros
Effective but gentle on the enamel
Sonic technology
Warnings when changing the brush head
Cons
Only two operating modes
Travel case not included
5- Electric Toothbrush, Oral B 7000 SmartSeries Black Electronic Power Rechargeable Toothbrush with Bluetooth Connectivity Powered by Braun 
Electric Toothbrush: Designed for teenagers and braces
(See also: Comparison of the best ORAL B toothbrushes )
The Electric Toothbrush is on par with the best electric toothbrushes in technology, power, and efficiency, but with an aesthetic designed for teenagers.
This electric toothbrush features two brush heads (one regular and one for braces ), a timer divided into 30-second phases, and a good battery that lasts up to two weeks. Its bluetooth connectivity is also an excellent way to track your child or teenager's brushing and improve their brushing habits.
At first, I thought this model put aesthetics before efficiency. Still, I was surprised to see that its engine is just as powerful as the more advanced models in the PRO range of Oral B and that it also includes a pressure sensor, which makes it an ideal option for taking care of children's teeth, adding extra motivation thanks to its design.
Pros
Aesthetics and design for children and teenagers
Effective and powerful
Pressure sensor
Bluetooth
Cons
Carrying case not included
6- Xiaomi Mi Electric Toothbrush
Xiaomi Mi: Sonic technology and Bluetooth at an unbeatable price
The Mi Electric Toothbrush is tech giant Xiaomi's electric toothbrush, a sonic model that's already a bestseller, with Bluetooth, three brushing modes, a good battery, and a price that's hard to beat.
Bluetooth allows you to configure specific options via your mobile phone and monitor your brushing, but don't expect wonders. It's fundamental! Nothing to do with other more advanced models like those presented above.
An electric toothbrush to consider if your budget is limited, although there are some aspects that could be improved, such as Bluetooth compatibility (as there have been reports of incompatible smartphones). In addition, I miss some beneficial functions, such as the pressure sensor that protects the enamel from damage.
Pros
Sonic technology
Three brushing modes
Bluetooth
Competitive price
Cons
No pressure sensor
Bluetooth compatibility could be improved
7- Oral B Vitality FlossAction Electric Toothbrush, White
Oral-B Vitality FlossAction: the best-selling and cheapest electric brush
The Oral-B Vitality FlossAction is an elemental electric toothbrush that may be right for you if your budget is limited or you need to figure out what you'll use it for.
Don't expect considerable advancements, although it has the basics for effective tooth cleaning, like 2D (oscillation and rotation) technology in the movement of the brush head and a timer that guides you through the vibration brushing process.
The main limitation of this toothbrush is its power because its motor only turns at 7600rpm, far from the 10500rpm of other more advanced models. Despite this, I must say that it is a cheap and practical electric toothbrush, which takes up very little space (both the brush and the charging base) and is a perfect option to start using electric toothbrushes or to have it as a travel toothbrush, for example.
Pros
Price
Ergonomic and non-slip handle
It takes up little space
Cons
Limited power
The battery could be improved
No pressure sensor
Short base power cable
8- Electric Toothbrush, Oral B 7000 SmartSeries Black Electronic Power Rechargeable Toothbrush with Bluetooth Connectivity Powered by Braun
Oral-B 7000: A model from Oral B's professional range at an affordable price
The Oral-B 7000 is one of the most economical options in Oral-B's PRO range. It is an efficient electric toothbrush thanks to the 3D cleaning system of the brush head.
Oral B has improved the design and ergonomics of this electric toothbrush compared to the previous PRO 600, replacing the plastic handle with non-slip rubber.
Although it is in the PRO range, it is a basic model. Its motor could be more powerful and lacks advanced functions such as a pressure sensor or Bluetooth. The battery isn't impressive either, as it only lasts seven days. But despite these flaws, I found this model very ergonomic and practical, and I also appreciate that it comes with a case for storage.
Pros
Ergonomic and non-slip
Affordable price
3D head movement
Includes carrying case
Cons
Power-limited motor
No pressure sensor or Bluetooth
One operating mode only
Guide to choosing the right electric toothbrushes
An electric toothbrush is an electronic device designed for cleaning teeth and consists of a head and a handle, inside which is the motor that moves the director and all the electronics to control it. Depending on the method of moving the bristles of the brush head, the electric toothbrush can be sonic or oscillating/rotating.
Electric toothbrushes are the best way to maintain optimal dental health, and thanks to advances in technology, they are becoming more efficient and safe for enamel.
Plus, the new designs guide and correct your brushing style, ensuring they're effective even if you need to improve using an electric toothbrush.
But it's not just technology or price that makes an electric toothbrush work. In this guide, we have evaluated the most important factors, such as power, quality of materials, battery, and many other characteristics, to make your choice easier.
What is the best electric toothbrush?
It depends on the specific features each user is looking for, but when it comes to efficiency, the toothbrush must have a strong enough motor to clean correctly.
Rotating technology brushes with at least 8000 oscillations per minute and 40,000 pulsations per minute are sufficient for a good cleaning.
In the case of sonic models, from 30000 movements, they are already very effective.
Among the models analyzed, the best electric toothbrush is the ORAL B IO, a model currently unmatched in terms of efficiency, power, and brushing assistance, with its multiple sensors such as intelligent pressure, etc., which let you know if you have cleaned every nook and cranny of your teeth.
Electric or manual toothbrushes?
Electric toothbrushing and manual toothbrushing can effectively clean and remove plaque. However, several studies have shown that electric toothbrushing is more effective long-term because it does not require as much talent as manual brushing.
In addition, it is more comfortable to use an electric toothbrush than a manual toothbrush, and if it is a model with a pressure sensor, you also make sure not to damage enamel or gums.
Therefore, for this cleaning to be effective and safe, you must choose a recommended and quality toothbrush.
Which electric toothbrush to buy?
The first thing that strikes me when choosing an electric toothbrush is that there are rotary and sonic models. However, the term sonic should be distinct, as the only difference between the two is that rotating brushes rotate the brush head, and sonic brushes vibrate it.
Whether it's sonic or rotating doesn't make it better or worse. Quality and efficiency are determined more by the power and technology used to move the head, whether rotating or vibrating.
However, although there are no significant differences in the long term, the rotating brushes are slightly more effective in removing dental plaque, and the sonic brushes clean more interdental areas.
What features should you consider when choosing an electric toothbrush?
There is a wide variety of electric toothbrushes on the market, and it is sometimes difficult to decide since the choice depends on the type of end-user or the budget and, of course, the quality and technology used by the brush. Teeth.
It is strongly recommended that the toothbrush have a power that allows it to clean effectively, and many models on sale do not offer this power. It is also essential to keep in mind that if we choose a little-known or little-sold toothbrush, we run the risk of not being able to find replacement heads.
Accessories are another aspect to consider. For example, if you travel frequently and don't know where to store your electric toothbrushes. Then you should choose a model with a carrying case.
Finally, it would help if you considered the cleaning modes or even. Why not, the design since there are models that stand out from the rest?
How to use an electric toothbrush to brush your teeth?
If, until now, you have only ever brushed your teeth with a manual toothbrush, you may have doubts about how to brush your teeth with an electric toothbrush. Still, it's even more accessible because electric toothbrushes are designed to guide you in brushing your teeth and prevent you from making mistakes.
The advantage of electric toothbrushes is that with the movement of the brush head. They do most of the work, and you only have to move the brush head over the surface of your teeth.
Most of them guide you through brushing duration and warn you to change brush heads. The most advanced prevent you from damaging the enamel or gums thanks to pressure sensors.
The electric toothbrush timer works by vibration and is usually divided into 4 phases of 30 seconds, for a total duration of 2 minutes. This division corresponds to the distribution of the teeth in 4 quadrants. So, each time the electric toothbrush vibrates, you must move to the next quadrant.
So just put the toothpaste on, and turn it on. Then run the toothbrush through the first quadrant until it tells you to change. Then do the same with the second quadrant, and so on until the end.
The more advanced the electric toothbrush, the easier brushing will be. It guides you through the cleaning process using timers and warns you of excessive pressure against the enamel.
In the case of Oral B's GENIUS series, you can even view your brushing history on your smartphone and be notified if you leave any areas uncleaned.
Can the battery of an electric toothbrush be changed?
Electric toothbrushes have an internal battery and are closed and sealed to prevent water from entering, so the battery is not replaceable.
There are a few models of battery-powered electric toothbrushes, but they differ from the battery-powered models discussed in this article.
So make sure your electric toothbrush has a quality battery. Otherwise, the battery life will be significantly reduced after a few months. You will have to take the toothbrush to a service center or buy a new one.
When should the brush heads of an electric toothbrush be changed?
The life of the brush head depends significantly on how the toothbrush is used and how the user brushes. It is also directly related to the frequency of toothbrush use.
Each manufacturer has their recommendations for when to change the brush head. Therefore, it is advisable to use common sense and change it when the filaments start to deform.
Is brushing enough for complete oral hygiene?
Brushing is essential for good dental health, but it is not enough and alternative methods should be used to remove debris from the interdental spaces, such as flossing or water flossers. Both ways should be used for complete oral health. There are even models that include an electric toothbrush with a dental jet.